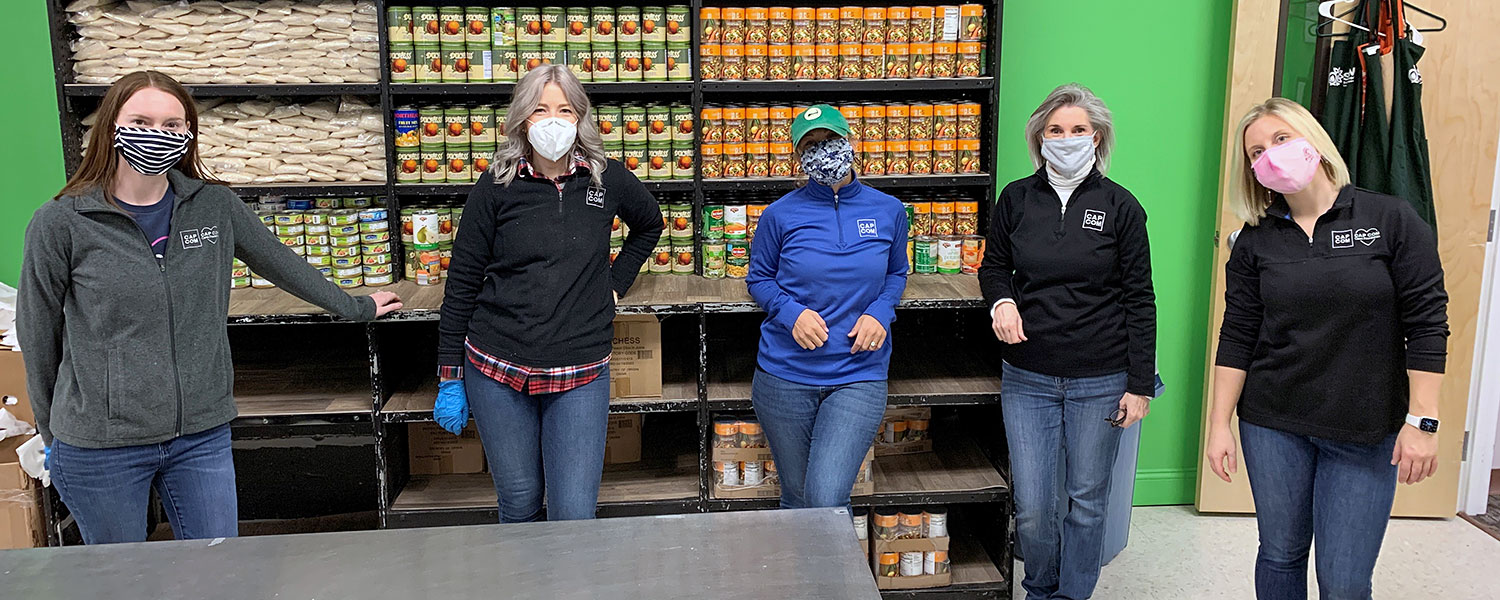 CAP COM Cares Introduces 5 New Partners
The CAP COM Cares Foundation is proud to introduce to you five new partners as we strive to diversify our community impact. Our partnership total will continue to grow later this year.
CAP COM Cares volunteers recently pitched in to assist one of those partners -- Schenectady Inner City Ministry (photograph above).
This year, CAP COM Cares is prioritizing our giving to entities that support:
Hunger and Food Insecurity
Mental and Behavioral Health
Financial Literacy and Workforce Readiness
With that in mind, here are profiles of our newest partners.
#HicksStrong Inc.
CAP COM Cares is supporting counseling services for service individuals.
#HicksStrong Inc. connects service members with licensed mental health therapists so they can receive confidential support. The goal is to help address the military suicide epidemic by removing the red tape a that prevents servicemen from seeing therapists in a timely fashion.
Website: https://hicksstrong.org
Schenectady Inner City Ministry (SiCM)
CAP COM Cares is supporting SiCM's "Living My Best Life" program.
SiCM addresses public health needs such as food insecurity and nutrition education, racism and diversity concerns, and summer recreation through community collaborations and programming.
"Living My Best Life" advances low-income women's health, financial literacy, and parenting skills. Sessions will be taught by culturally sensitive educators at SiCM's new Community Resource Center. Many programs deal with these topics individually but lack resources to provide information across these areas and address poverty more effectively.
Website: https://www.sicm.us
Saratoga Center for the Family
CAP COM Cares is aiding programs that provide mental wellness support to help people deal with struggles related to COVID-19.
Saratoga Center for the Family provides a comprehensive array of services committed to strengthening, empowering, and educating children, families, and the community. The organization's mission is to reduce the incidences and effects of child abuse, neglect, and family dysfunction.
Our support helps meet the growing need for financial assistance among clients who are weathering this health crisis without jobs or health insurance. Our assistance will also help provide free mental health and supportive services to community members and children.
Website: https://saratogacff.org
Eden's Rose Foundation
CAP COM Cares is supporting "Pandemic Produce Pickup!"
The Eden's Rose Foundation created a garden market on Clinton Avenue in Albany in November 2020. It's a free produce market that helps feed 600 households a week in the West Hill neighborhood.
The health and economic crises intensified the needs of the most vulnerable populations in our community. Pandemic Produce Pickup serves fresh vegetables, fruits, and other nutritional staples at no cost to community members.
Facebook page: https://www.facebook.com/donate/457617308753818/457621458753403/
Albany Leadership Charter High School
CAP COM Cares is supporting the school's Food for Thought Food Pantry.
Albany Leadership High reaches more than 300 young women each year. The school focuses on the whole student and family by addressing poverty, food scarcity, and social and emotional health.
More than 90% of its students qualify for free or reduced lunch, and 80% of the students' household incomes are less than $30,000 annually.
Many of their students and their families experience food scarcity. In response to this need, Albany Leadership launched its Food for Thought Food Pantry.
Website: https://www.albanyleadershiphigh.org