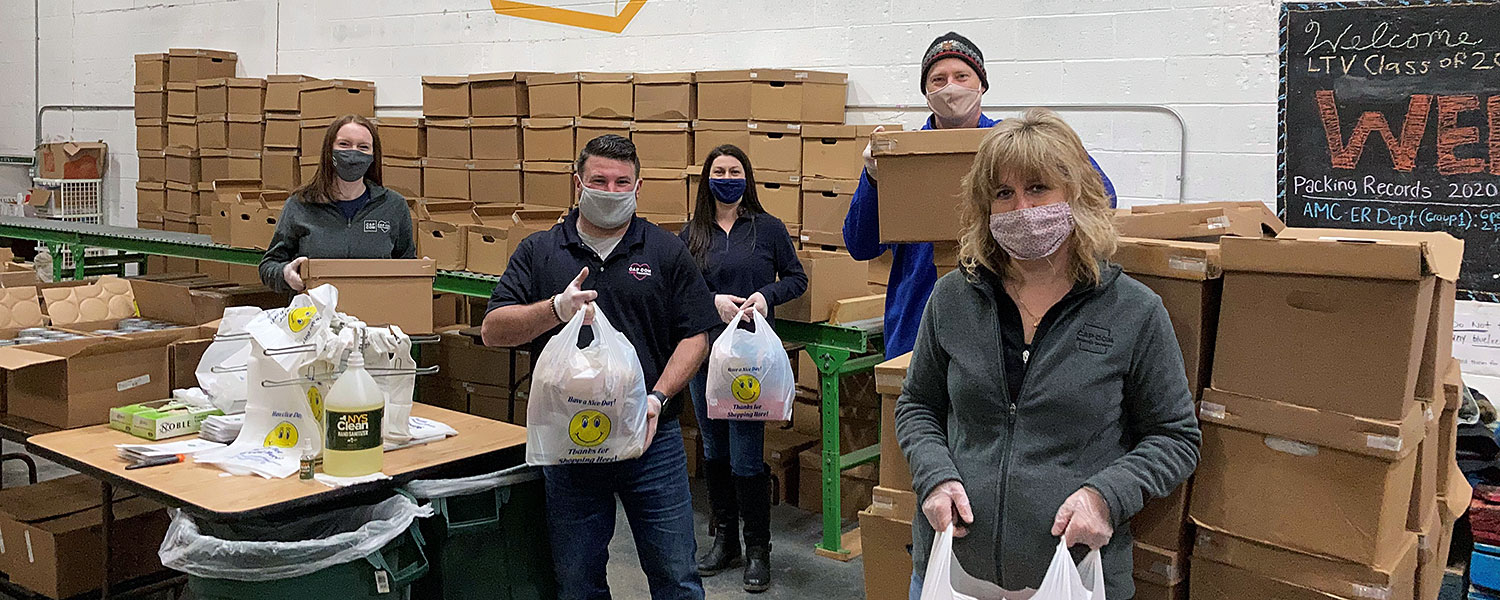 Feeding 500+ Kids Takes a Community
Volunteers filled bags with food for 540 kids who are in free school breakfast and lunch programs at 11 schools in the Albany City School District.
Thanks to the generous people at Albany Feed & Read, more than 500 children in Albany have enough food to eat this weekend. And every weekend.
The Homeless and Travelers Aid Society (HATAS) has operated the Albany Feed and Read program since 2016. In addition to distributing food for kids, HATAS collects and distributes furniture, including beds and couches, for those in need in the Capital Region.
Melissa Frank, the HATAS Marketing and Data Analyst, explained the process.
1) The Regional Food Bank of Northeastern New York donates the food and delivers it to the HATAS warehouse.
2) Volunteers representing organizations such as CAP COM, Albany Medical Center, and Leadership Tech Valley come to HATAS to pack bags and boxes of food during the week.
3) On Fridays, volunteers use their cars to pick up the food and deliver it. Because not every child who needs support is in school these days, the food is delivered to schools and individual homes – an enormous volunteer-powered undertaking.
4) Grassroots Givers, a partner organization, provides a free book with each bag. By the end of the school year, the children will have their own home library. Albany Feed and Read is the only food program in the region that includes books.
Five volunteers representing the CAP COM Cares Foundation met on a January morning to fill bags and boxes of food, including spaghetti, pork, rice, fresh apples, granola bars, bread, and more. In less than two hours, the team had filled 290 bags of food, boxed them up, and set them on pallets for the drivers to pick up. Later that day, another group would come to fill more bags. CAP COM Cares will send volunteers there twice a month through the rest of the school year.
All this work and coordination ensure that 540 kids who are in free school breakfast and lunch programs from 11 schools in the Albany City School District won't go hungry this weekend. And every weekend.
Food Insecurity Facts & Stats
According to the U.S. Department of Agriculture, more than 10% of the households in the country experience food insecurity. Before the coronavirus pandemic, 35 million experienced hunger. The problem has become more pronounced during the pandemics.


John T. McDonald III, a member the New York State Assembly, wrote in the Times Union in October that "According to Census data in April–May 2020, a staggering 22.9 percent of New York State faced food insecurity, unable to afford enough food."


Even if a family's income is more than what the government considers poverty, affording food can be a struggle. Feeding America reports that up to two-thirds of people facing hunger have incomes above the federal poverty line.


The CAP COM Cares Foundation and its caring volunteers help support our community by teaming up with local organizations dedicated to improving the lives of families in New York's Capital Region. Thanks to business sponsors and sustaining individual patrons, we can help meet the growing needs in our community, including food insecurity among children.