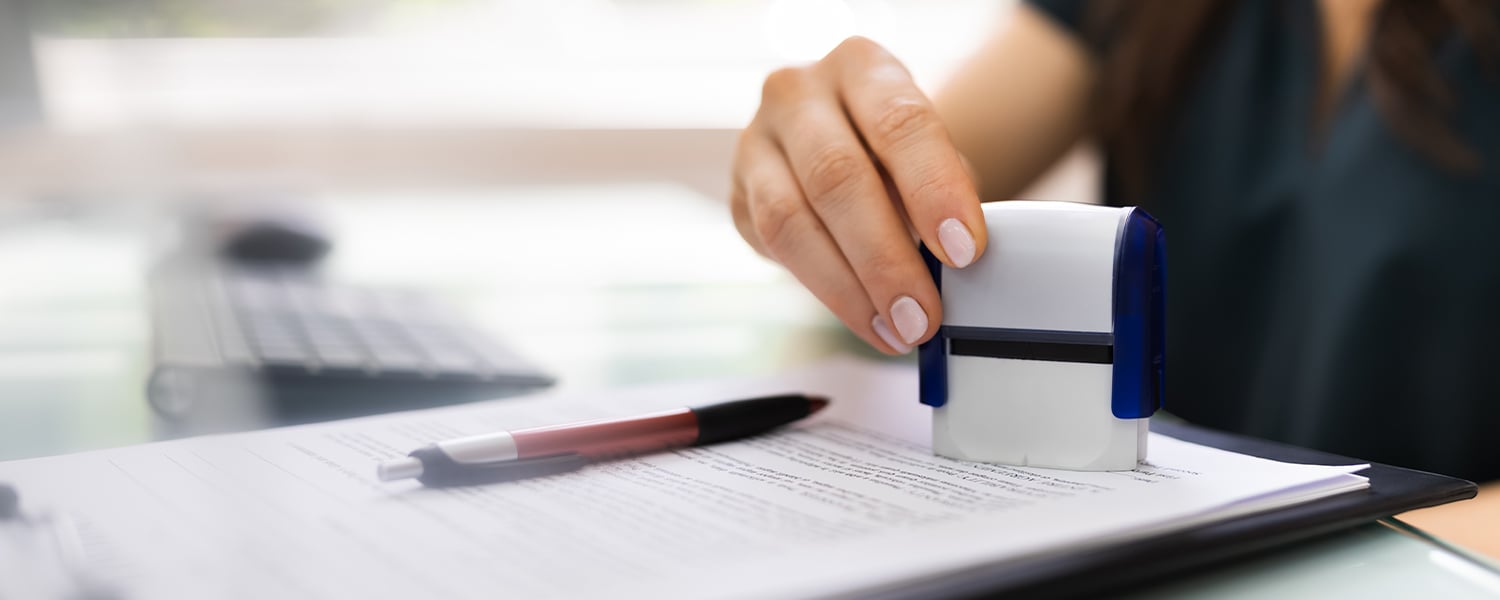 Notary Services Explained
Learn the ins-and-outs of notary services CAP COM offers.
Have you been told that someone needs to "notarize your signature" before you ink a particular document? Whether you need an affidavit, business contract, or another official form notarized, understanding what is meant by the term can help you prepare for a smooth notary services experience.
What are Notary Services?
Notary Services provide the public with a way to properly execute legal documents in the presence of a state government-trained individual. In the state of New York, such individuals must apply for a Notary Public commission through the NYS Department of State, Division of Licensing Services.
A licensed notary public not only witnesses your signature on documents, but also provides accountability by signing their own name on the document. They must also record details about the signatures such as the location, time, and date of signing.
Do I Need a Notary Public?
Most states require certain documents to be notarized before they can be considered legally binding. But you can also have your document notarized if you're signing agreements that involve an exchange of money or assets.
Does CAP COM Provide Notary Services?
Yes. Notary Services are available to CAP COM members and non-members. We encourage you to call us at 800-634-2340 or schedule a time to have your documents notarized.
Are Notary Services Available by Appointment Only?
An appointment is not required. However, scheduling an appointment ensures that a notary public will be available at a branch location when you arrive and reduces your wait time.
What Should I Bring?
All parties that are required to sign the documents must be present. They should bring a form of photo identification, such as a New York state driver's license, passport, military ID, or other government-issued document. Besides identification, they will need to bring the document requiring notarization and the service fee.
Expect the person notarizing the documents to review them before they are signed. They will also compare signatures against the signatures on the identification documents.
Will CAP COM Notarize Any Document?
It's important to note that while CAP COM provides Notary Services, notary publics represent the state of New York, not the credit union. "Notary publics are personally liable for any issues that arise," clarifies Ernie Plumley, CAP COM Senior Branch Manager. "As a result, there are limits to what we will notarize. We would not be able to notarize wills or trusts due to the legal implications and frequency of changes that occur with these documents," says Plumley.
Notary publics are also prohibited from notarizing anything in a foreign language unless they are fluent in that language.
What If I Already Signed the Document?
If you sign the document before you meet with a notary public, they can still verify the signature's authenticity and complete the notarization process. "You will likely need to sign a blank piece of paper in front of the notary public to verify your signature," says Plumley. The notary public must verify that the signature belongs to the person identified in the document.
How Much Does It Cost?
Each state sets maximum fees a notary may charge for services. In some states, notaries are paid an hourly rate while others charge a one-time fee. CAP COM does not charge members a fee for Notary Services.
Remember that notary publics are not lawyers. Scammers posing as notaries will often charge hefty fees to perform prohibited activities, like offering legal advice or notarizing a document without all signers being present. If you suspect a notary services scam, file a report with your state's attorney general office.