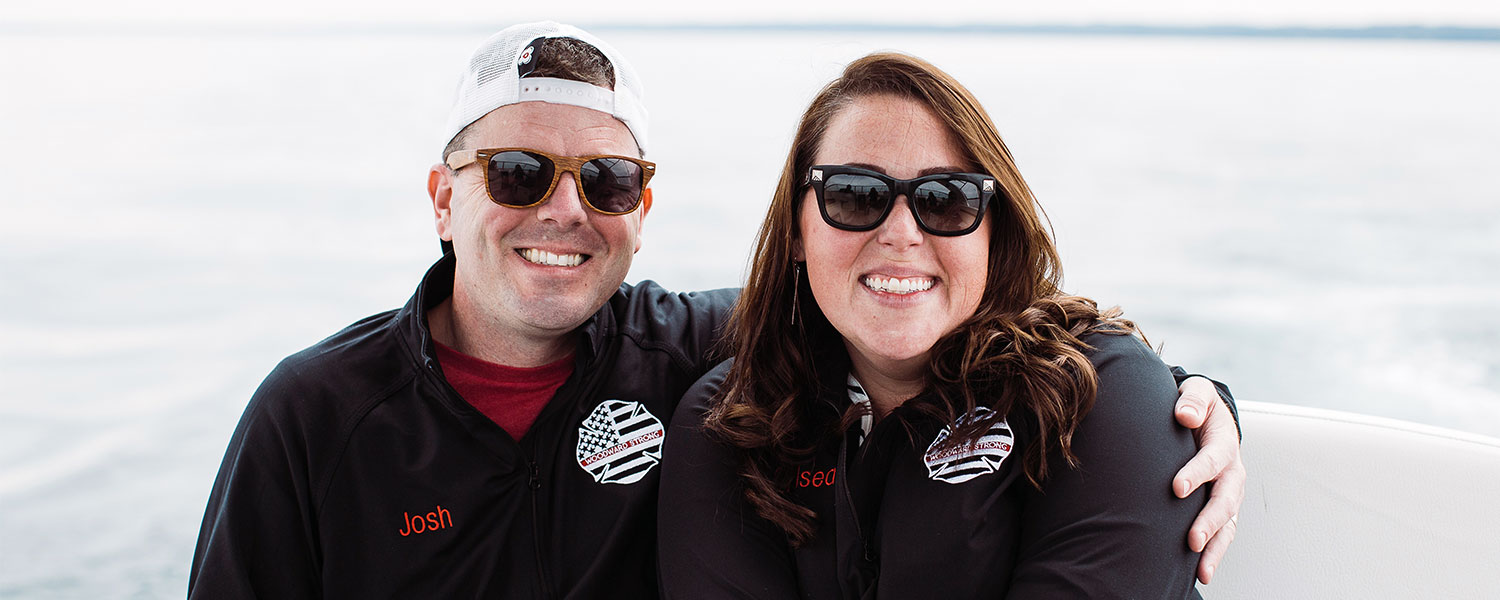 Scholarship Winner Discovers New Vocation After Three Years of Hurdles
More than $80,000 given to 38 scholarship and award winners.
Joshua Woodward could use some good news for a change. Since February 2019, the former Albany International Airport firefighter survived near-fatal sepsis that led to organ failures, months in the hospital, amputations of his right arm and leg, and an opioid addiction.
Once the calendar turned to 2022, luck began changing to the good for Joshua and his family.
Joshua was one of 38 winners of the CAP COM Cares Foundation's scholarships and awards, which were announced in June and had a total value of more than $80,000. The Foundation held its breakfast celebration on July 13. It was the first in-person scholarships event since 2019.
Reinvestment into Learning and Trade scholarships represent a group of individuals seeking education in a diverse list of pursuits including: Culinary and Baking Arts, Autobody Repair, Aesthetics Science, Welding, Radiology, Social Work, and Fine Arts. View a complete list of scholarship winners.
"Three summers ago, I was confined to a wheelchair," Joshua recalled. "I didn't have any prosthetics yet. I've always been an active person. It was torture. I was in significantly more pain then, too. We've had so much loss the last three years or so."
Joshua, now 37 and a father of two children under 10 along with his wife Chelsea, walks and rides an exercise bike. He misses running, which is next to impossible because – while he has prosthetics for his right arm and leg – he is missing toes on his left foot.
"Having my mobility to get around is huge. I want to get to a normal – as normal as it can be – a balanced rhythm," he said.
Scholarship applicants must submit an essay. Joshua applied for the Reinvestment into Learning Scholarship, which is for CAP COM members aged 26 or older who are pursuing an undergraduate degree. The essay question was: "Whose professional legacy do you admire? Tell us about that person and how your legacy can match theirs someday."
Part of Joshua's essay read:
I believed any semblance of a career was over for me. I've always thrived when working with my hands. Sadly, my amputations rendered me unable to return to my position as a firefighter. I became a liability to my firefighting brothers, and I found myself stuck at home wondering what would be next. Having always wanted to learn a trade, I began researching the possibility of welding with a prosthetic. After learning it was within reach, I decided to take a leap of faith and enroll in welding school to start the process towards a new career.
Joshua enrolled in welding school last fall and recently graduated.
"I loved every minute of it. It was fun to learn something new, and it helped me build my confidence," he said. "I had never held a welding torch or any equipment before. I did my research before I started school. The hardest part was my body working every day again. I was in school about 40 hours per week. Instructors were really good about teaching the craft without making me feel different."
And who was Joshua's role model whose legacy he admired? It's Chelsea's father. Here's more from his essay:
When I think of the kind of career man I want to be, the kind of person I want to be overall, I think of my father-in-law, a man I deeply admire. An entrepreneur who started his own moving company, Mark provided a beautiful life for his family off his own hard work and tenacity. While his line of work – the deeply blue-collar, gritty, endurance-motivated kind – may not appeal to all, to me it's everything I'm looking for out of life. It's the kind of work I admire, the kind of work that makes me feel proud at the end of the day.
Mark was diagnosed with stage four cancer last year and died in February.
"When he got sick, we really bonded," Joshua said. "There were times we didn't even say anything, but we related to each other."
Three weeks after Chelsea's father died, her grandfather passed away.
Then the good news started to flow. Joshua applied for the scholarship, completed school, and was offered a full-time welding job in June. He and Chelsea celebrated their 10-year wedding anniversary and escaped on a sunny vacation for a few days right after the job offer.
It's been a long three years, but Joshua's luck is turning around. Here's how he concluded his essay:
Being the recipient of the Reinvesting Into Learning Scholarship would allow me to continue enriching my life with education, to master a new skill set that will carry through to a long career, and to seize the opportunities I've been given. My father-in-law never shied away from a challenge. He never let an obstacle to success become anything more than just that, and his life and career are a masterclass in achieving your goals. I'm lucky to have such a formidable role model and I hope this scholarship can help me carry on his legacy and appreciation for the simple beauty of hard work.