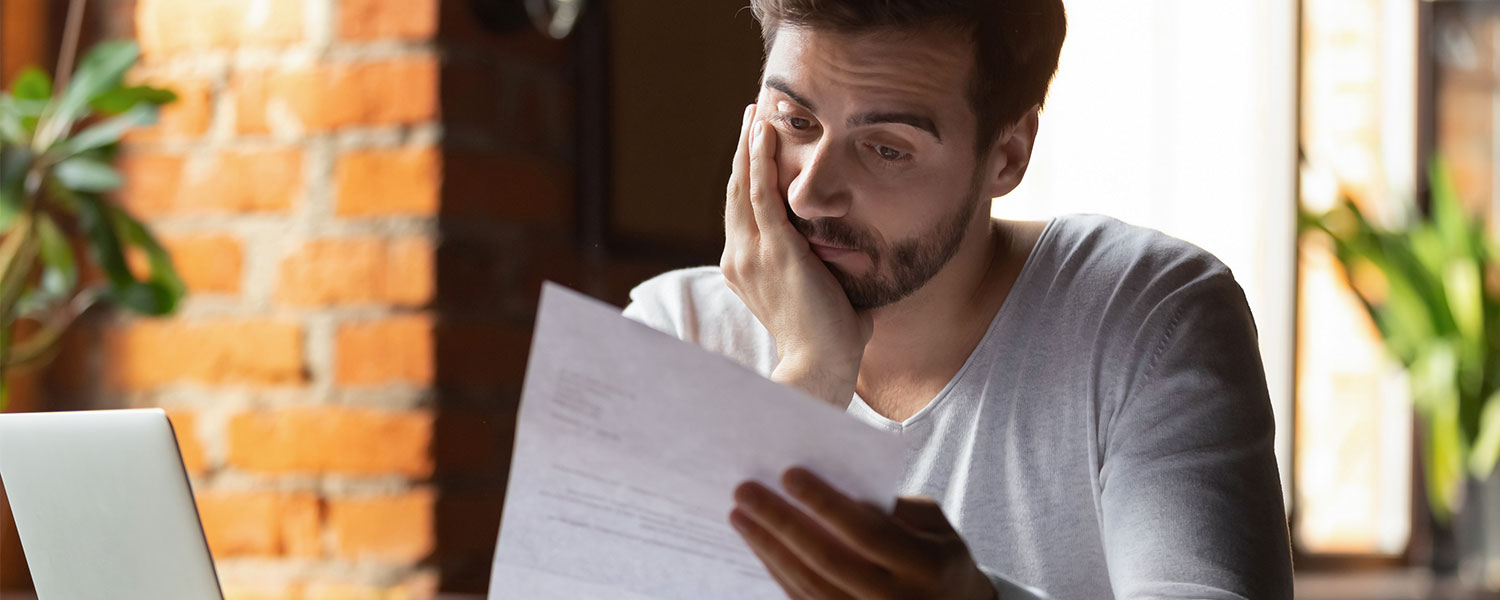 Unemployment Claim Fraud is Soaring
Find out how to strengthen your identity-theft defenses and steps you can take if you're a victim.
What are the chances your identity will be stolen and used to file an unemployment claim? Even if you're extremely careful, the odds are tilting against you.
"Every day, we receive phone calls from victims of unemployment claim scams and identity theft. Think about that – multiple calls, every day. If you believe it can't happen to you, it can. I've been a victim myself."
That's Tim Ortwein, Senior Financial Crimes Investigator at CAP COM Federal Credit Union. He has decades of experience in law enforcement, as a police officer and detective.
We spoke with him about the surge in unemployment claim fraud striking victims right here in the Capital Region.
He shared his firsthand experience and professional insights – including what to do if it happens to you.
Q&A with CAP COM's Financial Security Professional
Q. Tim, thank you for joining us to talk about unemployment fraud. Why is this scam on the rise?
Tim Ortwein: After the COVID-19 crisis triggered millions of job losses, unemployment benefits were expanded. While these benefits have been a lifeline for Americans out of work, identity thieves are cashing in on a massive scale.
Cases of unemployment claim fraud and identity theft are exploding here in the Capital Region – even going so far as striking employees in local law enforcement, county legislatures, and other government entities.
More than 425,000 fraudulent claims have been identified by the New York Department of Labor during the pandemic. That's just through early February 2021 – and it's only the ones that have been detected so far.
Q. How does unemployment claim fraud work?
Ortwein: Criminals use stolen personal information to file a fictitious unemployment claim with the state. The scammers use your name, Social Security number, birthdate, and other personally identifiable information to obtain funds that are deposited into various bank accounts or issued on prepaid debit cards.
Q. How common is it in the Capital Region?
Ortwein: This has become a multi-billion dollar scam, and it really doesn't matter where you live. Some sources estimate that unemployment fraud will impact 1 in 5 workers.
Q. Why is there so much unemployment fraud now?
Ortwein: The pandemic created the perfect storm of health crisis, financial hardship, and criminal opportunity.
States and the federal government wanted to make sure people out of work received unemployment funds as swiftly as possible. Scammers know they can exploit these programs because they're overrun with claims and under pressure to process them quickly.
Some of these criminals have been holding onto stolen identities for months, years even – biding their time. Swamping the system with COVID-19 unemployment claims is the jackpot for fraudsters.
Q. How does a criminal get someone's personally identifiable information?
Ortwein: The consensus is that data breaches from the past are the source of much of this information. We're familiar with some of these breaches because they have been reported in the press. Other breaches never see the light of day, so we're all in the dark. Scammers have been waiting to use the stolen information, and the pandemic created the ideal opportunity for them.
Q. How do you know if you're a victim of unemployment claim fraud? Are there clues?
Ortwein: To begin paying unemployment benefits, the New York State Department of Labor must first confirm eligibility with the claimant's "former" employer. Therefore, employers may be the first to know if unemployment fraud has been committed in an employee's name. You would find out when your workplace notifies you.
We also see cases where people get a notice in the mail from the Department of Labor about the claim. Other victims even receive actual unemployment benefits in the form of a debit card. Ordinarily, a legitimate applicant would use the debit card to make purchases or withdraw money (but anyone not entitled to the debit card shouldn't use it, of course).
If you encounter any of these situations, you'll want to notify the Department of Labor immediately and take additional steps to protect your identity.
Q. If you discover you've been scammed, what can you do about it?
Ortwein: Before you do anything else, put a file together to keep track of your correspondence and actions. Note steps you take, online reports you submit, people you speak to, dates, times, and phone numbers.
Report it. As soon as possible, go online and report unemployment claim fraud to the New York State Department of Labor. You can also try contacting the New York State Unemployment Claims Center at (888) 209-8124 to report the fraud, however the phone system has been unable to meet the excessive volume. If you DO reach a person, try to get as many details as you can -- ask if payments have already been issued, where they've been sent, etc. – so you have this information for other reporting.
Place a free fraud alert on your credit report. If you report the fraud to one agency, they're required to notify the others.
Equifax (800) 525-6285
Experian (888) 397-3742
TransUnion (800) 680-7289
Monitor your credit. By law you're entitled to one free credit report from each credit agency per year. To maximize this benefit, request a report from www.annualcreditreport.com every four months, rotating through the three agencies. Because new activity doesn't always show up right away, resist the urge to act. Instead, wait 30 days before requesting your first credit report to allow time for suspicious activity to appear.
Report the unemployment claim fraud to the Federal Trade Commission (FTC) at www.identitytheft.gov.
File a report with your local police department.
Consider creating an IRS account. If your Social
Security number is stolen, a false tax return could be submitted in your name. Setting up an account with the IRS and filing taxes early reduces your risk.
Change passwords, logins, and PINs for online services, especially on your financial accounts.
Talk to your family about this. Alert them to the warning signs of unemployment claim fraud.
Stay vigilant. Watch out for letters from the Department of Labor, and suspicious mail, social media messages, and phone calls.
A Few Final Words
Q. Last question. Are victims at risk for additional scams because their confidential info is "out there?" What else can be done?
Ortwein: Unfortunately, we're all at risk. Identity theft has become a multi-billion dollar scam industry. On average, there is a new victim of ID theft every second in the U.S., according to some recent reports.
Make sure you take steps to protect yourself and incorporate them into your usual routine.
Shred unused documents. Protect confidential information. Use secure official websites. Do not click on links or provide your personally identifiable information to unfamiliar companies, websites, or in response to unsolicited emails or social media messages.
And, don't take calls from Microsoft tech support, Apple, Amazon's billing department, or anyone else who contacts you unexpectedly and insists they need access to your computer to help you.
Criminals are constantly finding new ways to rip people off. Sometimes their victims make it easy. But in the case of a system breach, your personal identifying information has been exposed, and you're the innocent victim.
Keep strengthening your defenses by adopting good habits, paying attention, and reporting identity theft immediately if it happens to you.
Related Topics
CAP COM Resources: Security & Fraud Prevention
Blog: Freezing Your Credit is Free
FTC: Identity Theft Reporting and Recovery Plan