Members tell us they're being contacted by imposters who claim to be on our Fraud Prevention Team. We will NEVER request information about your account or identity – by phone, email, or text message. If you receive a text alert for a purchase you didn't make, DO NOT approve it. We will NEVER instruct you to approve a transaction. When in doubt, call us at 800-634-2340 .
Giving For Good
Your support helps enhance the lives of people in need.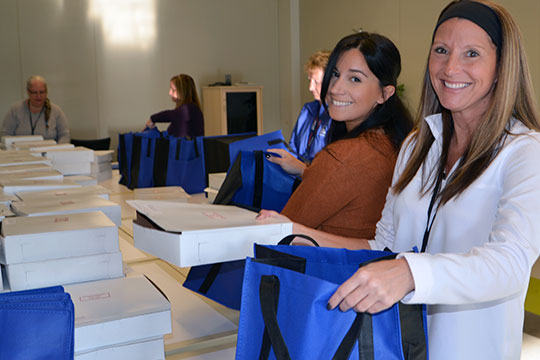 Giving for Good unites Broadview members, employees, and friends to help care for people in need in our neighborhoods.
As we know, the need is immense.
Join with us to help vulnerable individuals and families who face hunger, shelter, learning, and health challenges.
Your donation of just $1 monthly helps local nonprofits:
Provide food for the hungry at pantries and meal programs

Equip children with clothing and supplies to excel at school

Offer comfort with personal care items, cots, blankets, coats
On our own, we can do good. Together, we can do a lot more!
---
3 Ways to Support Giving For Good

At A Branch
Visit any branch and an associate can accept a one-time donation or help you enroll to donate $1 or more each month from your account.

Digital Banking
If you bank with SEFCU, division of Broadview, log in to your account, select Secure Forms and "Giving for Good" in Community Support.

Credit Card
To donate with a credit card or debit card, please submit the form below. You can make your gift of $1 or more one-time or recurring.
We're Here for Each Other
Help Broadview provide support for people in need throughout the areas we serve.

Meet the Team
Get to know the people who make Broadview in the Community such an unstoppable force for good.

Contact Us
If you have a question about our initiatives or need help making a donation, please reach out.

Freight Farm
Vegetables from our 40-foot growing containers help feed the hungry. See how our Freight Farm program works.