Users are no longer able to use Internet Explorer to open a CAP COM account, apply for a loan, or check a loan status. For a full list of browsers supported by CAP COM and its platforms, please see our list of supported browsers.
Support for Nonprofits
Partner with CAP COM Cares and apply for funding for your organization
Request funding for your nonprofit organization to help fulfill its service mission in New York's Capital Region. Based on the current needs in our community, we are prioritizing our areas of giving to entities that support:
Hunger & Food Insecurity
Mental & Behavioral Health
Financial Literacy & Workforce Readiness
Request Nonprofit Partnership Support
After You Apply
You can expect to receive a response within 30 days of your submission (with approval or denial). During periods of high volume, responses could be delayed.
Questions?
Email: foundationcomm@capcomfcu.org
Phone: (518) 458-2195, ext. 3619

$5 million+
Funding and goods for local charities since inception

83%
Percentage of caring CAP COM employees who volunteered in 2020

250+
Organizations that we have assisted in New York's Capital Region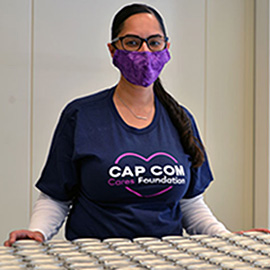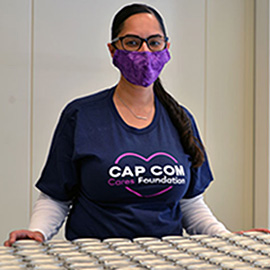 I want to make a difference any way I can.
"Growing up in NYC, poverty levels were always high. Witnessing people struggle at a young age made me want to make a difference and contribute any way I can. My grandmother always made an extra plate of food for a neighbor who didn't have enough to eat. Seeing how happy it would make her when my grandmother brought her food was a reward in its own."
- Valerie G., Branch Manager
Help the CAP COM Cares Foundation make a difference in the lives of people right here in the Capital Region.

Contact Us
Reach the CAP COM Cares team or submit a media inquiry.

College Bound
High school students and their parents can join our College Bound experts to learn how to build a smart college financing plan.
The CAP COM Cares Foundation is a 501(c)(3) charitable organization. Tax ID #54-2071140. Your contribution may be tax deductible. Seek advice from a tax advisor for tax deductibility.