Users are no longer able to use Internet Explorer to open a CAP COM account, apply for a loan, or check a loan status. For a full list of browsers supported by CAP COM and its platforms, please see our list of supported browsers.
Phone Banking
Bank by phone and get assistance.
Call our Automated Phone Banking system and bank with your phone's keypad or your voice.
Securely access your account 24/7
Perform transactions
Speak with a Member Service associate
Want to bank by text? See how.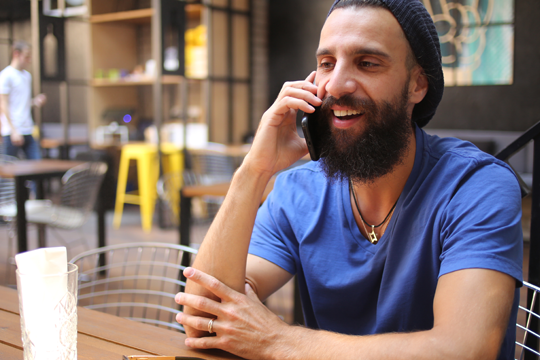 Call (800) 634-2340
After the greeting, answer questions to confirm your identity. Have your account number handy. Then:
Bank by Phone Press 1
Reach an Extension Press 2
Speak with an Agent Press 3
After making your selection, follow the prompts.
Popular Shortcuts
After pressing 1 to enter Phone Banking:
Transfer from Savings to Checking 2 - 1 - 2
Loan Payment from Checking 2 - 2 - 1
Review History: Checking Account 1 - 1 - 2
Return to the Main Menu press 9
Prefer to use voice commands? Find a quiet location and avoid speakerphone.
Interact and Review the Following Types of Accounts
After calling and pressing 1 to Bank by Phone, press 1 to Review Account Info, then listen closely for the share or loan you would like to listen to you can interact with the following types of accounts:
Checking
Savings: Primary, Club, Money Market
Credit Card
Loan: Auto, Personal, Home Equity Loan
Certificate or IRA
Transfer Funds, Make a Payment, Request a Check
After calling and pressing 1 to Bank by Phone, press 2 to Perform a Transaction, then choose:
1 Transfer Funds Between Accounts
2 Make a Payment: Loan, Credit Card
3 Have a Check Sent to Me
0 Speak to an Agent
Switch to Another Account
After calling and pressing 1 to Bank by Phone, press 3 to Switch to Another Account then follow the prompts.
Main Menu
After calling and pressing 1 to Bank by Phone, press:
4 Return to the Main Menu
Simplify your finances and bank any way you like.
Make the most of every CAP COM benefit.

Earn More on Your Savings
What's so great about our iSave certificate? Great rates! Plus, you can add money to it. Open yours with just $100.

Get Our Mobile App
Your personal branch is open 24/7 when you bank with our mobile app. See balances, make transfers, pay bills, and more.

LoanXpress
LoanXpress makes it easy to get the money you need without going through the usual application process.