Attention: Some members are being targeted with text scam messages. We will never ask for your personal or account information via an email, text message, or phone call. If you are contacted by someone claiming to be from CAP COM and are unsure if the text, email, or call is legitimate, please contact our Member Services at 800-634-2340. To learn more about how to prevent identity theft, please visit our Security & Fraud page.
Users are no longer able to use Internet Explorer to open a CAP COM account, apply for a loan, or check a loan status. For a full list of browsers supported by CAP COM and its platforms, please see our list of supported browsers.
Preparing To Buy Your First Home
Helpful Steps for the Home-Buying Process
The most important thing to do before you shop for a home is find out how much you can afford to spend. The pre-qualification consists of a short conversation, either in person or over the phone. We'll crunch the numbers and help you find an affordable mortgage solution that meets your needs, allowing you to shop for homes within your price range.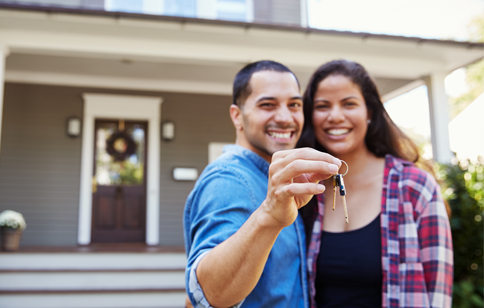 ---
Before You Shop for Your Home
The role of a realtor
We recommend that you work with a buyer's real estate agent. Unlike a seller's agent who works for the seller, a buyer's agent works for you. Your agent will help you find homes in your desired price range, arrange showings and coordinate your offer – at no charge to you! The buyer's agent will share the commission that is paid by the seller. You should speak with several agents before you decide who to work with. Choose someone who listens to your needs and has experience in the price range and neighborhoods you are targeting. We are happy to suggest real estate professionals who have been successful in helping other homebuyers.1
The role of an attorney
We recommend that buyers hire a real estate attorney to represent them through the process. It's a small cost compared to the large investment you are about to make. You can choose your own attorney or we can recommend a real estate attorney who will typically offer a reduced price.1
---
After You've Found Your Home
Mortgage Application Process
Once you choose the house you'd like to buy, you'll complete a formal application. When you receive the official application from your loan officer, you'll also receive a Loan Estimate form (LE). This form clearly outlines all the loan information including the estimated cash to close. You'll sign the official application form and return it within 10 days with the requested documentation, such as pay stubs, tax returns and proof of assets.
During this time, the appraisal will be ordered on your behalf. The appraiser will contact the seller directly to schedule an appointment to view the house. Once the home is inspected, the licensed appraiser will compare your home to the sales price of similar homes in the area to determine fair market value.
Commitment Letter
When your loan is approved, you will receive a commitment letter. At this stage you will be required to buy an insurance policy on your new home. You will need to purchase this policy prior to closing on the loan. Proof of this purchase is called an "insurance binder." CAP COM's licensed insurance experts can find the policy that fits your needs. Contact us for a no-obligation quote.2
Closing
On the day before the closing we'll tell you the exact amount you'll need for your closing costs. You'll need to bring the full amount in the form of a bank or credit union check. Make sure to schedule a final walk-through of the home with your realtor on the morning of your closing. This is an important opportunity for one final look at the house before you take ownership. At the closing you will have the opportunity to ask your attorney any last questions you have about your mortgage.
Peace of mind
Now that you own a home and have a large financial responsibility, this is also good time to set up life and disability insurance to protect your loved ones. The right policy can keep your family in the house, even if something should happen to you. CAP COM's licensed insurance experts will give you a call to discuss a solution that's right for you. Contact us for a no-obligation quote.3
Broadview FCU and Homeowners Advantage do not guarantee the services of any real estate agents or attorneys.

Insurance products offered through SEFCU Insurance Agency a wholly owned subsidiary of Broadview Federal Credit Union. Any insurance required as a condition of an extension of credit by CAP COM Federal Credit Union a division of Broadview FCU is not required to be purchased from SEFCU Insurance Agency and can be purchased from an agent or insurance company of the individual's choice. Business conducted with SEFCU Insurance Agency is separate and distinct from any business with CAP COM Federal Credit Union a division of Broadview FCU. Broadview FCU is not responsible for products and services purchased through SEFCU Insurance Agency. Broadview FCU does not warrant, guarantee or insure any service or product offered by any insurance company.

Life and disability insurance products are made available through our investment subsidiary, CAP COM Financial Services. Insurance products are written through separate companies and are not a product of nor are they an obligation of the Credit Union or its Subsidiaries.

Life and Disability Insurance Products: