Users are no longer able to use Internet Explorer to open a CAP COM account, apply for a loan, or check a loan status. For a full list of browsers supported by CAP COM and its platforms, please see our list of supported browsers.
Security Alert: Account Theft
Scammers posing as CAP COM staff trick members into sharing their PIN – and more.

In Brief
CAP COM's Fraud team is hearing from members about a scam that is particularly effective. Below we detail how it works, so you can protect yourself.
Be alert for unexpected communications asking for personal information. Fraudsters call or text to gather account information and steal money – even posing as CAP COM employees or its Fraud team.
Spoofing technologies can make the incoming call appear to come from CAP COM's (800) 634-2340 phone number when the call actually originates from the thief's phone.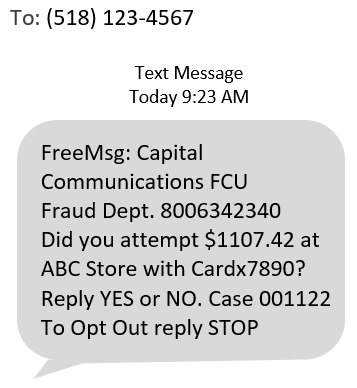 Remember: Our Fraud team might contact you to validate account activity, but never to collect personal information, especially not your PIN - or have you verify a purchase you didn't make.


What to Do
DO NOT provide your PIN, account number, Social Security number or any other personal information to someone who contacts you unexpectedly. The caller may pose as a member of CAP COM's Fraud team or other staff. DO NOT verify a purchase you didn't make by responding to a text.
When in doubt, hang up and contact us at (800) 634-2340 or call the number on the back of your card. Do not respond to any questionable texts. See tips to protect yourself here.

Additional Resources
Our top priority is protecting members' accounts. Visit our online Security Center for guidance and review the FAQs.