Attention: Some members are being targeted with text scam messages. We will never ask for your personal or account information via an email, text message, or phone call. If you are contacted by someone claiming to be from CAP COM and are unsure if the text, email, or call is legitimate, please contact our Member Services at 800-634-2340. To learn more about how to prevent identity theft, please visit our Security & Fraud page.
Users are no longer able to use Internet Explorer to open a CAP COM account, apply for a loan, or check a loan status. For a full list of browsers supported by CAP COM and its platforms, please see our list of supported browsers.
Digital Banking
Your personal CAP COM branch is open 24/7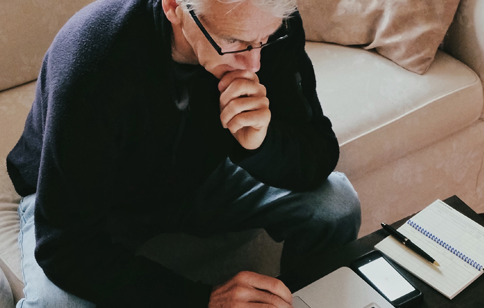 Banking comes to you and it's as close as your fingertips. Whenever it's convenient, bank online or with your mobile device.
Deposit money and pay bills

Perform transfers

Add an account

Apply for a loan or credit card

Use our free budgeting tool

Bank Online
Visit CAP COM's most popular branch! Log in to your secure online account at www.capcomfcu.org.

Bank on the Go
Bank whenever you feel like it. Try the CAP COM app and you may never go back.
Did you know? Nearly 100,000 members use CAP COM's digital banking platforms AND 19,000 obtain assistance from Member Service associates each month. Meet with us for a Fresh Look at your financial situation – we'll talk through your money goals and hunt for dollars to add to your budget.
Pay a Business
Make purchases and pay your bills via your online account or with your phone's mobile app.
Easy Does It
Pay your bills in minutes
Automate recurring payments
At the checkout, pay by phone
Pay People
Transfer money to a friend or family member, someone you hire, or anyone else.
Ways to Pay
Pay anyone with Popmoney
Send a check with Bill Pay
Transfer to a CAP COM member
Use Apple Pay or Google Pay
Manage My Money
Use this free tool in your account to build savings, cut expenses, and pay down debt!
Your Financial Fitness
Set up/switch your direct deposit
Set goals and budgets
Track goals with alerts
Deposit checks
Want to Simplify? Make Your Move.
Streamline your finances! We're making it easy to move your direct deposits and automate your bill payments. In just a few clicks, submit requests from your secure dashboard to:
Switch your accounts elsewhere to CAP COM

Move your direct deposits (payroll, Social Security)

Set up automatic payments for your bills
Simplify your finances and bank any way you like.
Make the most of every CAP COM benefit.

Join Us
Not a member of CAP COM yet? Experience award-winning service and people who advocate for you.

Your Digital Wallet
Load your CAP COM debit card into your mobile device and shop with Apple Pay, Google Pay, or Samsung Pay.

Let's Talk
Have questions? Banking online is really convenient. And, if you need help we're for you.